Yum Khao Todd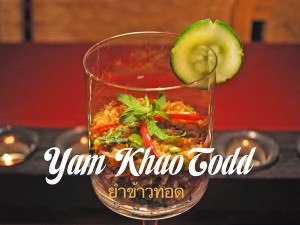 Ingredients for the rice balls (for 10 balls):
1 cup of rice
Red curry paste
Ingredients for the salad:
A few branches of coriander
Green onions
Chillis
Mint
Lime
Fish sauce
Roasted rice
Roasted peanuts
Nem
first step:
Cook the rice. Meanwhile, cut the coriander, green onions, mint and nem.
Second step:
When the rice is ready, wait until it cool's down. Add the red curry paste to the rice. With a glove mix all together  and make like squash balls. (The glove helps not to get hands stained) Fry the rices balls until golden color. Lay the rices balls on to scott towels to take oil exceed.
tirth step:
Crush the rices balls and add all the salad ingredients, ground the chillis, roasted rice and peanuts.  Add nem, coriander, mint and green onions, put fish sauce, squezze 1/2 lime to get the juice , mix all together. Now you ready to eat.
Bonne appetit!